The 4th BMS Student Conference took place from 17 - 19 February 2016 at Technische Universität Berlin. Held annually since 2013 to coincide with the BMS Days, this three-day event attracted 90 participants who attended the 17 scheduled talks, including two given by invited guests.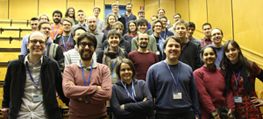 All speakers were given the task of presenting an interesting mathematical topic suitable for both current and prospective students. The reactions to all the talks were overwhelmingly positive. The conference participants also enjoyed some social activities, including a tour of Berlin's Tränenpalast on Wednesday afternoon. This memorial site was the former border crossing at Berlin Friedrichstrasse station, where East Germans said goodbye to visitors returning to West Germany. On Thursday evening, the traditional wine and cheese event was held in the BMS Lounge at TU Berlin.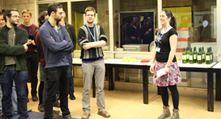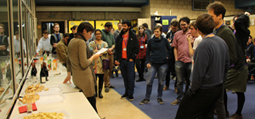 The main objectives of the BMS Student Conference are to provide prospective and current students deeper insight into the BMS and Berlin's mathematical landscape, and also to give students the opportunity to practice giving talks in a relaxed conference-style atmosphere. The five organizers, all current BMS Phase II students, would like to thank the participants and those who worked behind the scenes for their help in making the conference a big success!