On Friday 13 July 2018, the BMS Certificate Ceremony took place in the Goethe Saal at Harnack-Haus in Berlin's leafy residential district of Dahlem.
After the final BMS Friday Colloquium of the summer semester given by Prof. Dr. Monique Laurent (CWI, Amsterdam), BMS students, friends, family and BMS faculty, staff and guests joined together to celebrate the academic achievements of 21 BMS Phase I graduates and 83 BMS Phase II graduates.
The certificate ceremony began with a welcome speech by the new BMS Chair, Prof. John M. Sullivan, who began by congratulating the recent graduates on their success. He then reported that, in the 12 years since its foundation, the BMS has celebrated the success of 300 PhD graduates, and remarked that the internationality of BMS students continues to have a great effect on the math landscape in Berlin. In his short speech, Prof. Günter M. Ziegler, the outgoing BMS Chair and new President of FU Berlin, highlighted the internationality of the BMS management too and, in a quote by Hemingway, he encouraged the new graduates to be prepared for whatever luck the future might bring.
Monique Laurent returned to the stage to award Certificates of Completion to those students who completed Phase I during the past two years by passing the BMS Qualifying Exam. She then awarded Certificates of Distinction to the Phase II students who completed their PhDs in the same period. The ceremony also included musical performances by the duo "Wild Strings", a violinist and guitarist who perform their own improvised versions of classical music pieces.
After receiving their certificates, the BMS graduates gathered in the garden for some photographs and then everyone joined them outside to enjoy the celebratory reception under the warm evening sun.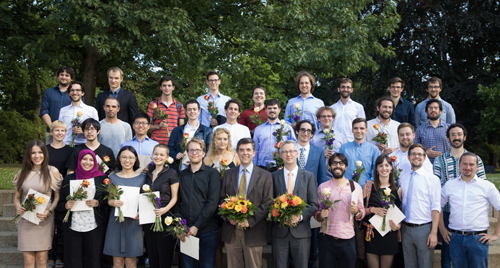 Patrick Morris, a Phase I graduate from the UK who is now halfway through Phase II, was grateful to the BMS for organizing such a special celebration and giving graduates the opportunity to invite friends and family along. Through the presentation of Phase II dissertation titles, he said his guests were able to get a real impression of where all his hard work can lead to. Antje Bjelde, a BMS Phase II graduate from Germany who is now working as a freelance researcher, said that seeing a "Dr." title before her name, as it was displayed on the presentation, is still a surreal feeling.
Phase I graduates Dragana Radojičić from Serbia and Shimaa Elesaely from Egypt both travelled back to Berlin from abroad to attend the ceremony. Dragana said: "It was a great pleasure to attend the ceremony and I was very happy when I got an invitation. I finished Phase I of the BMS program two years ago, and since then I do not miss an opportunity to visit Berlin and meet friends I made here. In addition to meeting dear people from the BMS, these events are always nicely organized with a wonderful atmosphere and great food." Shimaa remarked: "What I liked was to see old friends again and to celebrate my success with them. During the ceremony I enjoyed the music, and afterwards I enjoyed the delicious buffet and socializing with friends, professors, students and staff."
Almost 150 people attended on the day and we would like to thank everyone who joined us in celebrating the academic success of our students. Not all of our graduates were able to attend the ceremony, so we would like to take this opportunity to congratulate everyone. Well done, we are very proud of you all!

Written by S. E. Sutherland-Figini