The 6th Heidelberg Laureate Forum (HLF) took place at Heidelberg University from 23 to 28 September 2018. The HLF is a networking event for mathematicians and computer scientists from all over the world and is organised annually by the Heidelberg Laureate Forum Foundation (HLFF).
200 young scientists from 60 nations were successful in convincing the foundation's scientific advisory board of their outstanding academic abilities to secure a place at this event, where they were given the chance to interact extensively with 32 Laureates of mathematics and computer science. The Laureates are the winners of some of the most prestigious awards in those two fields: the Abel Prize, the Fields Medal, the Nevanlinna Prize and the ACM A.M. Turing Award.
There are several stages in the career of a young researcher during which they may apply to attend the HLF: undergraduate; graduate (in the PhD phase); or postdoc. Four BMS students were selected to attend the HLF this year: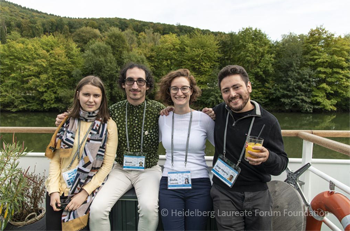 the Phase I student Tatiana Levinson, and three Phase II students Giulia Codenotti, Jorge Alberto Olarte and Josué Tonelli Cueto. The BMS students took the opportunity to converse with their fellow participants and with the Laureates in between attending the various talks, workshops and events.
The 7th HLF will take place in September 2019 and the application process will begin on 15 November 2018.
The HLF was initiated by the Klaus Tschira Stiftung (KTS), a German foundation which promotes natural sciences, mathematics and computer science, and the Heidelberg Institute for Theoretical Studies (HITS). The Forum is organized by the HLFF along with KTS and HITS. It is strongly supported by the award-granting institutions: the Association for Computing Machinery (ACM: ACM A.M. Turing Award), the International Mathematical Union (IMU: Fields Medal, Nevanlinna Prize), and the Norwegian Academy of Science and Letters (DNVA: Abel Prize). A longer news article in English can be found on the HLF website.
Written by S. E. Sutherland-Figini